NEW DELHI: The coronavirus pandemic has altered the decision of over 48 percent of the students seeking admission for higher studies abroad, QS I-Gauge study reveals.
The study conducted by Quacquarelli Symonds aims to track the changes in the decision of student's mobility for higher education in India and abroad against the backdrop of an unprecedented global pandemic.
As international borders are closed down to minimise the spread of the disease, the chances of studying in a foreign country have significantly reduced for students India.
The study indicates that about 52 percent of the students who desire to study non-STEM related programs have reconsidered their decision. However, there is only a marginal difference of almost 3 percent between STEM and non-STEM students aspiring for international higher education.
India or abroad?
When it comes to opting for higher education offshore, a majority of the students prioritise safety followed by employability and reputation of the university or institution.
These factors, however, do not manifest as an important criterion for selecting a university in India. According to the study, students prioritise good weather, safety and social life while choosing a college or institution.
Lower investment in funding higher education in India compared to studying abroad are also factors contributing to the increased focus towards career goals.
Student mobility within India
The study further reveals, Bengaluru as the most preferred destination by the students for higher education. 31.3 percent of the surveyed students chose the metropolitan city in Karnataka.
Delhi is considered the education hub of India, but it ranks second in the order of preference by students. Cities like Chandigarh (11.21%), Mumbai (8.48%), Chennai (7.69%) are also some of the preferred places for relocation for students.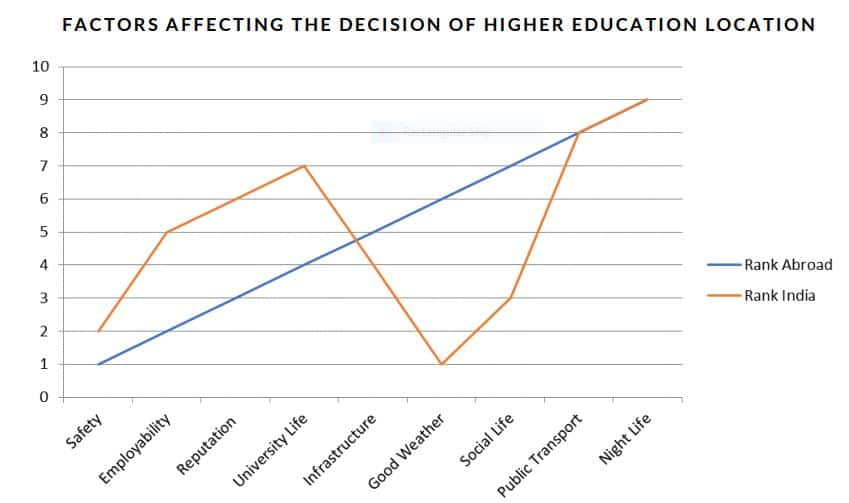 For those who prefer Delhi, non-academic factors like social life attracted 85.49 percent of students. "This can be further linked to the relatively lower cost incurred in education, quality of the education or the higher expectations of exposure to the social life in capital city," the study stated. In comparison to other cities, students opting for Delhi desire to pursue higher education in non-STEM courses.
Besides social life, employability, infrastructure, reputation, and university life are the top five reasons affecting the decision to pursue higher education in Delhi.
Of those students who chose to study in Bengaluru, 78 percent of the students wish to study STEM courses. According to the study, factors like pleasant weather, safety and social life add to the popularity of the city.
In addition, the city's start-up and tech culture is indicative of the underlying security for the students as it may increase the chances of securing a job opportunity after graduation.
Studying abroad
The survey reveals that most students in India prefer the USA (30.27 %) for higher education followed by the UK which ranks second with 15.84%, Germany in third position with 14.33 percent. Countries like Canada and Australia are also popular choices.
However, the students opting for the USA might be forced to reconsider their choice. "...the recent proclamation by USA President to suspend entry of immigrants who present a risk to the US labour market during the economic recovery following the COVID-19 pandemic outbreak, students aspiring for higher education in the USA might have to reconsider their options," the study said.
As safety is the top-most priority for students for selecting a country for higher education, concerns for health and safety may alter the choices of students. Due to the inherent risks, students are likely to either opt for universities with very little risk of COVID-19 or not opt to study abroad at all.
Originally Post - https://news.careers360.com/coronavirus-altered-study-abroad-plans-for-48-percent-indian-students
Media inquiries:
Academic & Professional Studies Abroad (APSA)
info@apsa.in
011-26289767
+91-9999375572
1309 Devika Tower, Building No.6, Nehru Place, New Delhi, Delhi, India - 110019
About the sender:
Academic & Professional Studies Abroad (APSA) has emerged as a leading and highly trusted study abroad consultants in Chandigarh. Since its inception, it has been providing world-class services to those who are willing to study abroad. With highly experienced and dedicated professionals along with an ethical way of working, APSA has become a one-stop destination for all your study abroad needs.
Social Links: |
LinkedIn
|
Facebook
|
Twitter
|
Youtube
|